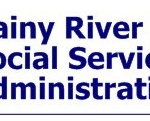 Website Rainy River District Social Services Administration Board
Full-Time position, Fort Frances, ON
The position is based in the town of Fort Frances which is located in Northwestern Ontario, in the Rainy River District. Experience the riches of the Rainy River District, the sun-filled summer days, the kaleidoscope of fall colours, the crisp cool air of winter mornings and bursting revival of every spring. The warm, friendly people live in a relaxed and satisfying lifestyle with superb natural treasures and exciting outdoor activities, coupled with great entertainment.
The DRRSB and its partners are recognized for supporting the district's individuals, families and communities through the provision of easily accessible, integrated, district-wide services that maintain dignity, safety and security thereby enabling healthier lives and contributing to caring communities. The DRRSB is committed to accountability to the taxpayer, compassion and understanding toward those requiring our services, continuous quality improvement, a common vision, and forward thinking.
We are seeking a highly motivated, seasoned and dynamic individual for the permanent management position of Chief Administrative Officer. Reporting to the Board of Directors, the successful candidate will be responsible for planning, directing, and monitoring the delivery of Ontario Works, Children's Services, Community Housing, and Paramedic Services within the Rainy River District.
Your background includes accomplished senior management responsibility within municipal administration and/or comparable private or public sector employment coupled with strong academic credentials. You understand the challenges facing smaller communities and have a track record of demonstrating an ability to move from strategic planning to the implementation of policies and projects. You have a passion for local governance and are respected as a focused, strategic thinker with impeccable human resources and financial management skills and the ability to develop strong working relationships with elected officials, employees, external stakeholders and the public. You will possess a four (4) year degree in a related discipline and a minimum of six (6) years of work-related experience.
Salary to commensurate with qualifications and experience. The Board also offers an excellent benefit package and participation int he OMERS Pension Plan. For more information visit our website at: https://rrdssab.ca/cao
Interested candidates who meet or exceed these requirements are invited to submit a resume and cover letter, including three work-related references, no later than 4:00pm (CST) on December 6, 2023 to:
Jocelyn Nielson, Administrative Assistant
District of Rainy River Services Board
450 Scott Street
Fort Frances, ON P9A 1H2
Competition #HR-19-2023-CAO
PRIVATE & CONFIDENTIAL
or by Email: [email protected]
The DRRSB wishes to thank all applicants, however, only those selected for an interview will be contacted. The DRRSB is an equal opportunity employer. Accessibility accommodations are available for all parts of the recruitment process. Applicants need to make their needs known in advance. This document is available in an alternative format, upon request.
HR_19_2023_CAO_Posting_Media_Sites_Final_R2.pdf (rrdssab.ca)
Disclaimer
The Atikokan Employment Centre advertises the following job posting as a service to its clients and to the community. Atikokan Employment Centre is not responsible for the wording or content of the advertisements. All correspondence concerning each position should be directed to the contact name identified in the advertisement.